Originally posted on June 9, 2020 @ 3:28 am
Scot McMillan is a television personality, mechanic, and builder. The business runs in his blood. His father was a renowned local mechanic back in the day. Scot spent most of his time in his father's garage, picking up several useful skills along the way.
By the end of his senior year, McMillan had already built and sold his first model! Most people will not be aware of the fact that the car specialist is also a former vet. Here are seven interesting facts about the life of Scot McMillan from Misfit Garage.
Who is Scot McMillan?
Scot McMillan is a restoration expert and reality star who appeared on the show, Misfit Garage. The show follows the exploits of former Gas Monkey employees who were let go. Instead of laying low, they went on to start a different garage. Their goal was to surpass their former employees. Even the name of their garage is a little on the nose!
Scot McMillan, Jordan Butler, and Tom Smith started an auto-body shop called 'Fired up garage.' By 2014, the crew was back on television again. It came with the advent of the Pilgrim Studios produced show, Misfit Garage.
The series first aired on October 13th, 2014, with the episode titled 'Fired Up About a '67 Chevelle.' As the title aptly suggests, Scot and the rest of his crew went to work on a 67 Chevelle. They even took part in a demolition derby!
Exciting stunts like these have helped the show enjoy an impressive six-season run, boasting a grand total of 56 episodes in the process. McMillan appeared in about 14 episodes before stepping back from television in 2016.
His last appearance came in the third season, on an episode titled 'Sue's Custom 56 Ford.'
He was in the army.
When he turned 19, Scot decided to enlist in the Marine Corps. It was not an easy decision on his part as he had long desired to start his garage. Unable to raise the required funds, he opted to try something different. After basic training, Scot got to tour different parts of the world with the military.
Everything changed when he was sent to Iraq. While on duty with his unit, Scot was hit with a motor that nearly killed him. The experience left him traumatized, and understandably, he decided to switch focus to something else.
His friendship with Aaron Kaufman.
Scot started his business, 'Scots Rod,' while he was still in high school. At the time, he was good friends with Aaron. Their business grew steadily, so much so that they later switched to a larger working space and switched names. At this point, their shop was called the PT Performance. Their time together saw them build over fifty cars!
Scot McMillan's net worth, Source of Income.
The Misfit garage star is the proprietor of Scots Rods Garage. It handles auto repair and restoration. The shop is trendy in Texas and fetches Scot a nice bit of profit. He also appeared on three seasons of the Misfit Garage. Sources say that he was paid $17,000 for every episode he appeared in. That means that in total, Scot raked in $238,000 from his work on the series. As it stands, Scot McMillan's net worth stands at $600,000.
Is Scot McMillan married?
The former Gas Monkey Garage Fabricator Scott McMillan is, in fact, a married man. His wife's name is Kelly McMillan. The two officially tied the knot back on December 8th, 2019. A look at Kelly's Instagram account reveals that she is not only an autocross girl but also part owner of Scots Rod Garage. Her favorite car is the 67 Chevelle. It is their love for cars that undoubtedly brought the two together.
https://www.instagram.com/p/B3xOnmYHlHg/
Kelly was not his first work, however. Scot was once married to a woman named Nikki McMillan. She is the mother of his two young sons, Cole and Scot Jr.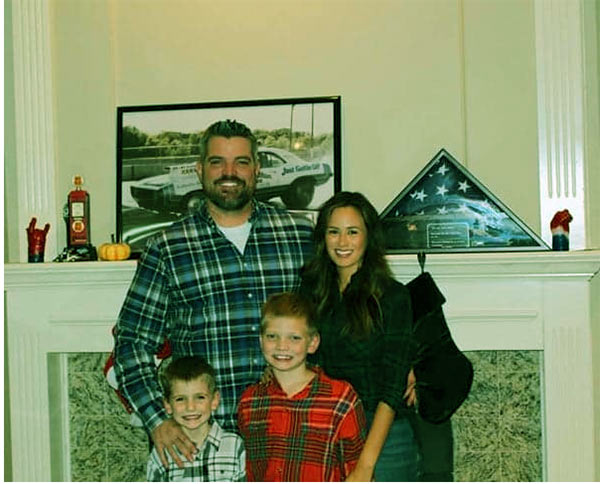 A look at Scot McMillan's social media accounts.
The Misfit Garage star Scott McMillan is very active on Facebook. A look at his account reveals that he is a former student of the Crowley High School. After he graduated, we also learn that he went to the University of Texas at Arlington.
McMillan has also released several videos that feature his affiliation with the military. Most recently, he posted a tribute to an army dog who had lost his life in the line of duty.
Scot McMillan's wiki-bio.
| | |
| --- | --- |
|   |   |
| Full name | Scot McMillan |
| Age | Mid-30s |
| Date of Birth | 1980s |
| Place of Birth | Benbrook, Texas, USA. |
| Profession | Car restoration expert, Reality television star, Entrepreneur, Fabricator, Former technician at Hoss Equipment |
| Net worth | $600,000 |
| Partner | Kelly McMillan |
| Kids | 2 |
| Nationality | American |
| Ethnicity | Caucasian |
| Zodiac Sign | N/A |
| Parents | Under review |