Originally posted on June 8, 2020 @ 10:23 am
Peyton Manning is a retired NFL player who lit up stadiums for teams like the Denver Broncos. After nearly 20 playing seasons in the League, he is considered one of the very best quarterbacks of all time. The two-time super bowl winner was nicknamed 'the Sheriff' back during his playing days. Manning was the first overall pick back in 1998 and was drafted to the Colts.
He is married to Ashley Manning, and she is the subject of our review today. Here are 15 interesting facts about Peyton Manning's wife, Ashley Manning.
Who is Ashley Manning?
Ashley Manning is a former NFL WAG. She became a public figure after her high profile marriage to Football Legend, Peyton Manning. Ashley, however, is more than just a WAG. She is also a businesswoman and real estate developer.
The real estate world is particularly challenging. One needs to have analytical, financial, interpersonal skills. Right from a young age, Ashley had decided that she was going to venture into business. To that end, she enrolled at the University of Virginia, where she graduated with a degree in marketing and finance.
With her father's guidance, Peyton Manning's wife went on to start a real estate company back in her hometown. Ashley and her husband are also part owners of a local basketball team, 'The Memphis Grizzlies.'
She is a humanitarian.
Both Peyton and wife Ashley Manning have been involved in several humanitarian ventures over the years. Before the turn of the millennium, they had launched the PeyBack Foundation. The foundation was set up to aid disadvantaged kids. They offer programs that are designed to teach them leadership and give them the chance to develop professional careers.
Ashley's foundation does it best to reach out to families and children from different backgrounds. They mainly try to find children who have been the victims of negligence and abuse. But these are not the only type of kids the foundation works with as they often reach out to scouts, summer programs, and even foster kids.
Since 1999, the foundation has raised more than $14 million for children across states like Louisiana, Colorado, and Indiana. Some of their recent programs and events include the Scholastic Book Club, the Manning Passing Academy, and the Peyton Manning Children's Hospital at St. Vincent.
How old is Ashley Manning? Date of Birth.
Ashley Manning was born on the 9th of December 1974 in Memphis, Tennessee. She is 46 years old presently, making her a year older than her husband. Much like other Sagittarius women, Ashley brims with unbridled passion and energy. They are two qualities necessary for anyone who wants to start their own company.
What is her full name?
Her birth name is Louisa Ashley Thompson. After she tied the knot with Peyton, Ashley became Mrs. Manning.
Her Family.
Peyton Manning's wife Ashley Manning is the daughter of Marsha and Bill Thompson. It is easy to see who Ashley took after once you learn what her parents do for a living. Her father Bill was a real estate developer and established businessman back in the day. It is the path Ashley chose to follow, as well.
Peyton Manning's wife grew up alongside three siblings. She is the middle child with an older sister named Allison. Ashley also has two other younger siblings named Leigh and Will. All of them were raised in Memphis, Tennessee.
Ashley Manning's Net worth and sources.
Ashley is a well-established entrepreneur, real estate mogul, and professional developer. Sources say that real estate developers can make up to $1 million in profit. Real estate agents, on average, also rake in about $100K per annum; this gives us a rough idea of what Ashley Manning's earnings might be.
Her husband, Peyton, is the fourth wealthiest NFL star of all time. It is reported that he retired with about $248 million in career earnings. He had accumulated this wealth after playing for 18 seasons in the league.
Long term partnerships with brands such as Nationwide Insurance and Gatorade, also saw Peyton earn an extra $150 million. Most people remember him from Papa John's Pizza ads. As it stands, Ashley Manning's husband is reportedly worth $150 million. Because she is married to him, Ashley enjoys the prestige and wealth that comes with this position.
Ashley Manning Measurements.
Mrs. Manning reportedly stands at an average 5 feet 5 inches tall. She is an entire foot shorter than her husband, who is well above average!
How did Peyton and Ashley Manning meet?
Ashley met her future husband back in 1993 in the most unusual of ways. The pair were set up by Ashley's parents' next-door neighbors of all people! They knew the Manning family. The two met during Peyton's freshman year in college. At the time, he was back home for the summer break.
They both left an impression on each other as they stayed in touch after. Ashley recalls that she thought Peyton was a humble and genuine man at first glance. Well, we bet that him being a 6 ft 5 NFL bound athlete did not hurt his chances either.
The two went on to date throughout their college days.
Ashley and Peyton Manning's marriage.
After nearly a decade of dating, Ashley and Peyton finally decided to take things to the next level. Peyton and Ashley walked down the aisle on the 17th of March 2001 in Memphis. The beautiful ceremony was held on a Saturday, and they had several close friends and family in attendance. So far, they have been married for 19 years. The good times have come hand in hand with the bad as the couple has been the subject of a few controversies.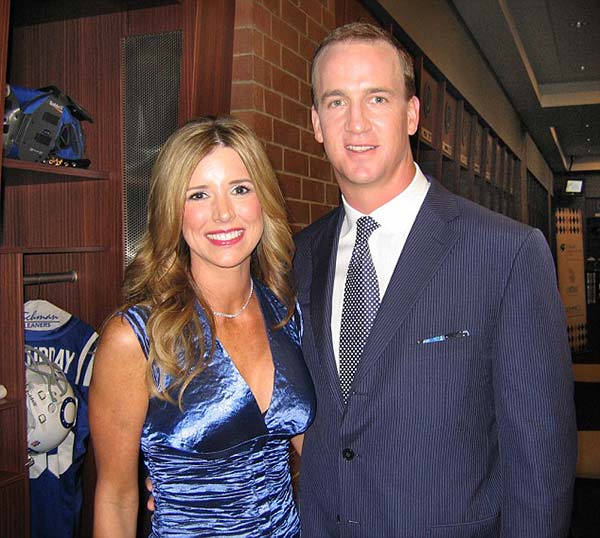 Despite all that, they continue to raise their kids together. We should also note that religion is at the core of their household as the two are staunch Christians. Peyton had revealed on multiple occasions that he got saved when he was just 13 years old!
It gave him a sense of purpose and direction in life. These are values they have tried to instill in their children as well.
A short bio on her husband, Peyton Manning.
Peyton Manning was born on the 24th of March 1976 in New Orleans, Louisiana. The retired Broncos QB is 44 years old currently. Manning's legendary football career can be traced all the way back to high school when he led his team to multiple titles. In fact, by the time he was ready to move on to college, at least 60 institutions had offered him a full scholarship.
The University of Tennessee was his eventual destination. By the time Manning was set to be drafted, he had broken the record for most touchdowns, boasting a total of 89 on his part. By 1998, he was playing for the Indianapolis Colts. He stayed with the team for about 13 seasons, scooping up five different MVP Awards!
A neck injury, unfortunately, derailed his career. After recovering, his team decided to trade him to the Broncos as he was not the same player he had been before. In 2016, fans were shocked to learn that he was hanging up his boots. He was inducted into the Colts Ring of Honor. His jersey was even retired!
 Peyton and Wife Ashley Manning Have two kids.
Peyton and his wife are the proud parents of twins; a boy and a girl. These are Marshall Williams and Mosley Thompson Manning. They were born on the 31st of March 2011. Mosley and Marshall just turned nine about a month ago. Since the two are relatively still young, there is not a lot of information available about them.
Ashley Manning Controversy.
Peyton Manning's wife came under fire back in 2011 when some serious accusations were leveled at her. She had allegedly obtained an illegal substance, HGH, for her husband. The alleged incident occurred during Peyton's lengthy injury lay off. The substance in question was meant to aid in his recovery.
Luckily for the two, the case was thrown out when it made it to court as there was no evidence to back up the allegations.
Her husband's sexual misconduct allegation.
Back in 1996, Peyton faced a serious sexual misconduct allegation. He had reportedly exposed himself to one of the trainers, Jamie Ann Naughright. The former Colts QB says that it was just a prank, but the trainer was understandable offended.
She sued the institution and settled for $300,000. After the dust had settled, Jamie went after Ashley's husband in another personal defamation lawsuit. Again, she opted to settle everything out of court.
Ashley Manning's wiki-bio.
| | |
| --- | --- |
|   |   |
| Full name | Louisa Ashley Thompson-Manning |
| Age | 46 years old |
| Date of Birth | December 9th, 1974 |
| Place of Birth | Memphis, Tennessee, USA |
| Profession | Former WAG, Businesswoman, Real estate developer |
| Net worth | Under review |
| Partner | Peyton Manning |
| Kids | 2 |
| Nationality | American |
| Ethnicity | Caucasian |
| Zodiac Sign | Sagittarius |
| Parents | Bill and Marsha Thompson |