Originally posted on June 8, 2020 @ 9:13 am
Bruno Massel is a television personality who hosts Garage Squad and also Truck U. He spent a lot of time on the drag strip as a child. It has influenced his present career. Bruno is a two-time winner of the National Hot Rod Association World Championships.
He has also worked as a commentator for the NHRA and modeled after completing university. Join us as we delve deeper into his career and to learn more about his personal life.
Is Bruno Massel married?
The NHRA champion is married to his lovely wife, Dayna Purgatorio. Bruno and Dayna tied the knot on 28th December 2002, and they have been happily married since. They have been blessed with two sons. The Garage squad cast loves to post photos of his boys and his wife. This is a loving family.
On 28th December 2019, Garage Squad Bruno Massel posted a photo of his lovely wife, wishing her a happy anniversary. He then hilariously thanked his wife for putting up with him for all the years they had been together. Massel then ended the lovely message by telling his wife that he loves her.
Meet Bruno Massel's Wife Dayna Purgatorio.
Dayna Purgatorio is very mysterious and likes to keep her life private. However, looking at Bruno's Instagram, we can see that his wife loves fitness. On their anniversary, on December 28th, 2018, the Garage Squad host posted some photos of his wife. He also wished her a happy anniversary and revealed that she was Miss Fitness Iowa Champion of 1997.
https://www.instagram.com/p/Br73u9An9Go/
Bruno went on to add that his wife still looked ready to model even after two decades and two kids. His wife also loves the beach as there are several photos of her on the beach sporting bikinis and showing off her abs and well-toned body.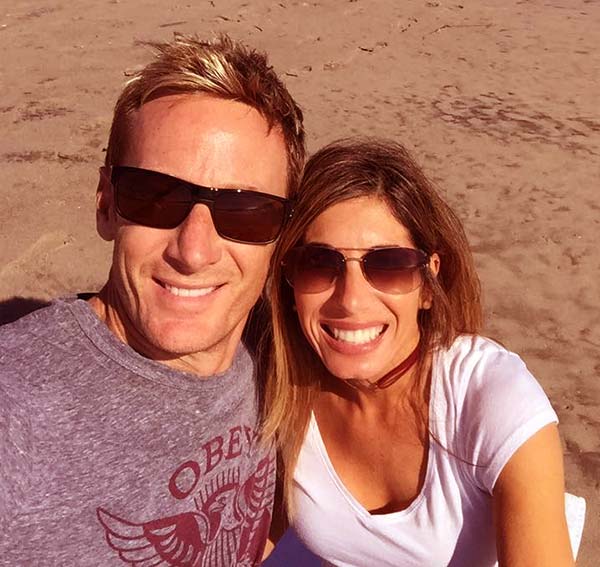 His Kids.
Bruno Massel and his lovely wife have two boys, as aforementioned. The NHRA racer is very proud of his boys and loves them a great deal. His Instagram is littered with photos of his lovely sons. The dad of two recently posted a picture of one of his sons, Anthony. He wished him a happy eleventh birthday and marveling at how fast the boy has grown since he was born in 5th April 2009.
On 9th March 2020, Bruno Massel posted photos of his elder son, whom he likes calling Little B, wishing him a happy birthday. That means his elder son was born on 9th March 2007. The lovely boy was turning thirteen.
His dad went on to write that he couldn't believe that he was proud of officially having a teenager. He also posts photos of him and his sons in the race track. The two boys love sports, and there are many photos of them in their sports attire.
Bruno Massel Net Worth.
It is no secret that Bruno Massel's career has been a successful one. From modeling to hosting sports shows, the Truck U host has been estimated to have a net worth of $6 million. His income is derived from his earnings as a drag racer, model, and media personality.
On average, models can rake in about $50K per annum. His work in drag racing has proven more lucrative over the years. People in his line of work can make as much as $150,000 a year.
Bruno Massel Career.
The NHRA commentator attended York High School in his home town of Elmhurst. The Truck U host then joined the University of Iowa. He graduated with a degree in Finance and Marketing in 1986. After Iowa, he wanted to pursue a degree in law but changed his mind after attending his first orientation as it became apparent to him that it was not his path. In 1997, he became a model after a recruiting agent spotted him.
Afterward, Bruno Massel's joined the International Hot Rod Association and began racing using his dad's dragster. Later, he became a commentator for SPEED and TNN. As a result of his excellent commentator skills, he got a job as an NHRA commentator appearing in ESPN2 and Discovery for a decade. At the same time, he won two NHRA championships. His fame rose by many notches when he began hosting the reality car show, the Garage Squad.
Bruno Massel's Age and DOB.
The Garage Squad host was born on May 23rd, 1974, in Elmhurst, Illinois, in the United States. He is 47 years old in 2020. The NHRA commentator is a Gemini Zodiac.
Bruno Massel's Accident.
Massel had an accident that left him with a concussion while racing at Route 66 Raceway in 2010. His mom rushed to the scene after she heard of the accident. She was a great comfort to him at the time.
Bruno Massel Social Media.
The two-time NHRA champion is very active on social media. His Instagram handle is @Brunomassel. He loves posting photos of his drag race career alongside racing cars. Massel also loves posting his family and his pet dog. He has 31.6K Instagram followers.
https://www.instagram.com/p/ByhF5_zHugU/
Bruno Massel wiki-bio and other facts.
| | |
| --- | --- |
| Full name | Bruno Massel, Jr. |
| Age | 47 years old. |
| Date of Birth | May 23rd, 1974, |
| Place of Birth | Elmhurst, Illinois, USA |
| Profession | Television host, model, sports commentator, and drag racer |
| Net worth | $6 million |
| Partner | Dayna Purgatorio |
| Kids | 2 |
| Nationality | American |
| Ethnicity | Caucasian |
| Zodiac Sign | Gemini |
| Parents | Bruno Massel Sr. and Rosalind Massel |