Originally posted on June 10, 2020 @ 12:49 pm
Margaret Anne Williams is famous for her marriage to a renowned chef, Geoffrey Zakarian. Perhaps you may recognize him from the Food Network show, Chopped. Geoffrey is one of the judges. Apart from Chopped, he has also appeared as a judge in Hell's Kitchen and Top Chef.
Geoffrey Zakarian's wife came into the limelight soon after they became Mr. and Mrs. Zakarian. Margaret is viewed as a celebrity's wife. However, she is doing quite an excellent job in the business industry. We are going to talk about Zakarian, her career, net worth, age, children, and marriage life.
Who is Margaret Anne Williams?
Margaret grew up in Tampa, Florida. Her father worked in Kimmins Contracting Corporation as the Chairman and chief executive. Currently, he is the CEO of the company. There are a few details about her past life. We know that she studied at The University of New York and graduated with a business degree. Her father inspired her, and she took after him in the business world.
Margaret Anne Williams's Career.
Margaret Zakarian was able to succeed in the business world. She was appointed Marketing Executive of 3sixty Hospitality when she was 26 years. Three sixty Hospitality is a company that offers catering services and works alongside other companies such as Double seven and Lotus.
Marriage with Geoffrey Zakarian.
You would gasp if you knew the couple's age difference. As long as two people are in love, age is just a number. Margaret and Geoffrey had a mutual friend in common, and that is how they met. Soon after, the two started dating. The couple had a few things in common; they both liked traveling and hiking, and they most notably had a passion for food.
It did not matter that they had a 20 year age difference. They tied the knot on 31st July 2005 at Our Lady of Lebanon Roman Catholic Church. The church is located in Niagara Falls, New York. Geoffrey and Margaret have three children together.
A short bio on her husband, Geoffrey Zakarian.
Geoffrey is a renowned Chef, TV Personality, and Author. He was born on 25th July 1959 to George and Viola Zakarian. His mother was Polish-American. He was born and raised in Worcester, Massachusetts, with his brother and sister. Geoffrey went to the Culinary Institute of America to obtain his Associate's Degree. In time, he became a fantastic Chef.
Geoffrey has been in the following TV shows; Star Salvation, Cooks vs. Cons, Chopped (2009), the Kitchen (2014), Top 5 Restaurants (2015-2016), and Iron Chef (2005-2018). You can imagine his income throughout all these years in these shows.
Apart from his appearance in the Food TV shows, he also published his cookbooks, 150 Recipes for life around the table, and My perfect pantry: 150 Easy Recipes from 50 Essential Ingredients. His career has become a success. He must have a large sum net worth.
Before his marriage with Margaret, Geoffrey had been married to Heather Karaman for about ten years.
Margaret Anne Williams' Net worth, income.
We cannot tell how much her net worth is or her monthly/annual income. Her husband, on the other hand, has a whopping net worth of $6 million. According to research, Executive chefs are said to make about $77K monthly.
After the couple got married, they decided to open up their own restaurant called 'Town.' The restaurant receives about 100 customers each day. Who wouldn't want to taste their amazing cuisine?
The restaurant is a success thanks to Geoffrey's culinary skills and Margaret's business prowess. The restaurant was even awarded a Michelin Star. That means that it is considered one of the best places in the world to dine.
Geoffrey Zakarian's wife Margaret Williams' net worth is still under review.
Age and DOB.
Margaret Anne Williams was born on 12th June 1979. She is currently 39 years old.
Margaret Anne Williams' Children.
As mentioned before, the couple has three children together.
Madeline Zakarian (13 years) – she is the firstborn and was born in 2007.
Anna Zakarian (11 years) – she was born in 2009.
George Harris Zakarian (5 years) – he is the last born and was born in 2015.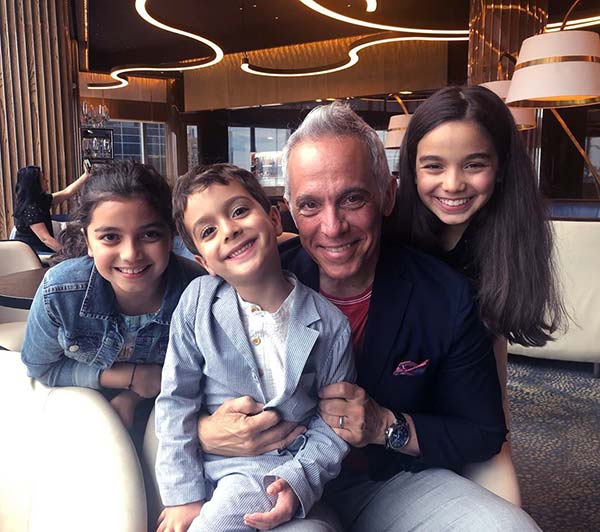 Margaret Anne Williams' Social media.
Geoffrey Zakarian's wife Margaret has an Instagram account, 'mzakarian,' where she has 25.6k followers. She posts pictures of her husband and adorable children. Taking a look at her husband Geoffrey, he can be found, @Geoffrey Zakarian. He has 678k followers. Taking a peek at his posts, we see that he mostly posts pictures of his cuisines and his family.
https://www.instagram.com/p/CA0rLezhiQO/
Margaret Anne Williams' Wiki-bio.
| | |
| --- | --- |
| Full name | Margaret Anne Williams |
| Age | 42 years old |
| Date of Birth | 12th June 1979 |
| Place of Birth | Tampa, Florida United States |
| Profession | Businesswoman |
| Net worth | Under Review |
| Husband | Geoffrey Zakarian |
| Kids | 3 |
| Nationality | American |
| Ethnicity | Caucasian |
| Zodiac Sign | Gemini |
| Parents | Marie, Francis M Williams |
 Margaret Anne Williams Zakarian was born and raised in Tampa, Florida. We have no details if she has siblings or not. Her parents are Marie and Francis Williams. She can be described as a loving mother with a kind-hearted soul.
Another fact that you may miss about her is that she is a philanthropist. Together with her husband, they have donated money to several organizations. Margaret stands about 5ft 7inches tall and has a beautiful smile.