Originally posted on May 19, 2020 @ 3:30 am
Not all heroes wear capes around- some wear aprons! Lidia Bastianich is a Croatian-born chef and cookbook author. She specializes in Italian-American cuisine. Her career on television includes shows like Lidia's Italy and Lidia's Kitchen. You've got questions you want to be clarified about her. Here is your chance. Let's take a critical look at the life of Lidia. This article will tell you about chef Lidia Bastianich's net worth and give you a look at her restaurants.
Who is Lidia Bastianich?
Her full name is Lidia Giuliana Matticchio Bastianich. She is a celebrity cook, television host, writer, and restaurateur. Lidia is a lifelong contributor to public television cooking shows.
Possibly, the height of her career came when she was chosen by Pope Benedict (2008) and Pope Francis (2015) to cook for them while they were in New York City. Lovely.
Also, Lidia sees food as a medium and way of nurturing and connecting with others. She's also noted for her trademark phrase "Tutti a Tavola a mangiare!" which suggests "Everyone to the table to eat!"
AGE & D.O.B.
Lidia was born in 1947 in Pula, Istria. This was after the city was allocated to the Federal People's Republic of Yugoslavia (which is now Croatia, by the way). That means she is about 74 years old now. Also, despite her advanced years, she is still a significant figure in the culinary world.
Bastianich's Early Life Before Fame
Lidia's parents are Erminia and Vittorio Matticchio. Her family lived under the communist regime of Marshal Tito in Yugoslavia for nine years. Later, they fled to Trieste, Italy. After spending several years in a refugee camp, she and her family emigrated to the U.S, where she now resides.
When Lidia was 12 years old, her family immigrated to the United States. They moved to North Bergen, New Jersey, and subsequently to Queens, New York. She often gives credit to their sponsor, Catholic Relief Services, for their family's new roots in America.
Also, at age 14 (which was the legal age for a work permit), she started working part-time. Of course, she worked at a couple of places before taking more significant steps. First, she was briefly employed at the Astoria Baker, which was owned by Christopher Walken's Dad.
And later, after graduating from high school, she started working full-time at a pizzeria on the upper west side of Manhattan.
First Restaraunt
In 1971, her family opened their first restaurant, Buonavia, which means "good road," and Lidia was just its hostess. Gradually, they created their restaurant's menu by copying recipes from successful and popular Italian restaurants of the day. Also, they made sure to hire the best Italian-American chef that they could find.
A year later, Lidia Bastianich started training as the assistant chef at Buonavia. And with this, she learned to cook quite a substantial amount of popular Italian dishes on her own. With time, she added traditional Istrian dishes to their menu.
Second Restaraunt
Soon, a second restaurant was opened in Queens, Villa Secondo, due to the success of Bounavia. There and then, Lidia Bastianich earned the attention of a few local food critics as she started giving live cooking demonstrations. Well, you may say that she became the curtain-raiser to her fame and career as the television cooking show hostess we know today.
Bastianich as a chef
Lidia Bastianich, it should be said, is one of the best-loved chefs on television. She's the chef/owner of four acclaimed restaurants in New York City. With her family and vibrant team, she opened Eataly. It is the largest artisanal Italian food and wine marketplace, with several locations in the US and even in Brazil.
Also, she has several other achievements accredited to her cooking ingenuity. Some prestigious accolades she's received include the following:
Outstanding Chef, Television Food Show
One of the Best Chefs in America
Who's Who of Food & Beverage in America, Specials 2016, Special 2017 and 2018
Two Emmy Awards for Outstanding Culinary Host (2013 and 2018)
Top 5 Recipes. 
Fried Mozzarella Skewers—Spiedini alla Romana
Escarole and White Bean Soup—Zuppa di Scarola e Cannellini
Ziti with Broccoli Rabe and Sausage—Ziti con Broccoli Rabe e Salsicce
Eggplant Parmigiana—Melanzane alla Parmigiana
Chicken Cacciatore—Pollo alla Cacciatore
Lidia Bastianich's Restaurants
Felidia: It is located at 243 East 58th Street, New York. The establishment specializes in Italian cuisine, using both traditional and local ingredients.
Lidia's Kansas City: Located at 101 West 22nd Street, Kansas City. It offers a daily three-course pasta special modeled after the popular service at Becco.
BECCO: Located along 355 West 46th Street, New York. This restaurant is most famous for its innovative pasta tasting menu & extensive $35 wine list.
Del Posto: Located at 85 Tenth Avenue, New York. It is vastly loved for its palate-enlightening cuisine, polished service, and a world-renowned wine list culminating in an Italian dining experience like no other.
Eataly: Has several branches. Its specialty is that of high-quality Italian food and drinks.
Lidia Bastianich, a best-selling author!
She has several remarkable books accredited to her name. Most of these books are cookbooks, as well as those that were much inspired by her life experiences. Below are a number of them:
La Cucina di Lidia
Lidia's Family Table
Italian-American Kitchen
Lidia's Italian Table
Cooks from the Heart of Italy
Lidia's Italy in America
Favorite Recipes
Lidia's Commonsense Italian Cooking
Tell Me A Story
Nonna's Birthday Surprise
Lidia's Egg-citing Farm Adventure
Mastering the Art of Italian Cuisine
Lidia's Celebrate Like an Italian
My American Dream: A Life of Love, Family, and Food
Felidia, Recipes from My Flagship Restaurant
Life on Television
Public Television provided Bastianich with her television series in 1998. After a while, it became Lidia's Italian Table. It beautifully became the genesis of her network's line-up of cooking shows. Several public TV series define her tv career. These include Lidia's Kitchen, Lidia's Italy, Lidia's Italy in America, and Lidia's Family Table.
Also, it will interest you to know that she has hosted a series of public TV specials that run an hour long. Check them out below!
Holiday Tables & Traditions.
Lidia Celebrates America: Weddings – Something Borrowed, Something New.
Freedom & Independence.
Lidia Celebrates America: Life's Milestones.
Holiday Tables and Traditions.
Lidia Celebrates America: Holiday for Heroes.
Homegrown Heroes.
Lidia Celebrates America: A Heartland Holiday Feast.
Return of the Artisans.
Her Production Company.
Also, Lidia has a TV production company (Tavola Productions), which created an animated holiday children's unique called Nonna Tell Me a Story. She subsequently had a 26-part series of Lidia's Kitchen.
Bastianich's Net Worth.
Lidia Bastianich's net worth is $6 million. A portion of this wealth comes from her cooking shows, which have been on air since 1998. Additionally, she is the owner of several Italian restaurants across the United States, which fetch a lot of money.
Also, she is the best-selling author of several cookbooks. It undoubtedly adds to her pool of wealth. Her daughter, Tanya Bastianich Manuali, and her son, Joe Bastianich, are her business partners. These multiple sources cumulate to her net worth, which amounts to $6 million.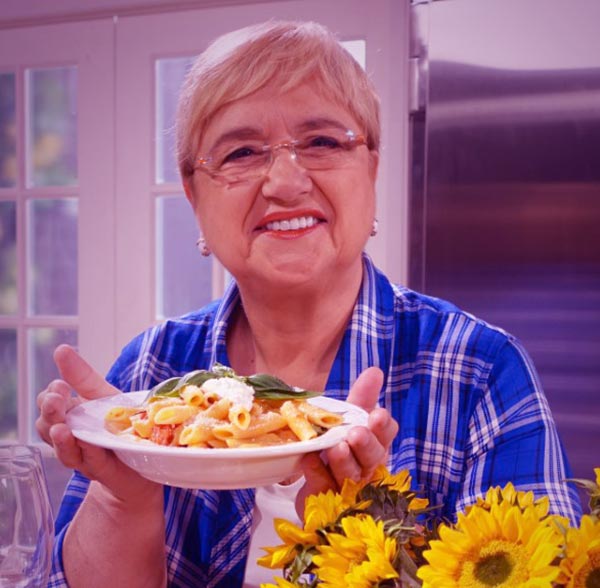 Does she have a husband?
Well, interestingly, Lidia once had a husband. They got married in 1966. Lidia and Felix were both in the same line of business at the time.
Years later, they got divorced. This came after several disagreements about their business. She had two children with Felice "Felix" Bastianich – Joseph in 1968 and Tanya in 1972, who are her business partners today.
Her son is a famous chef
Her son, Joseph Bastianich, is also an american restaurateur. He was born on the 17th of September, 1968. Added to this, he's a winemaker, vineyard owner, author, showman, television personality, guitarist, and musician. Along with his mother and partner, Lidia Bastianich, he co-owns thirty restaurants spread across four countries.
It will interest you to know that he has co-authored two award-winning books on Italian wine. Interestingly, his memoir, Restaurant Man, actually became a New York Times Best Seller within a week of its release in May 2012. He's got quite that extraordinary zeal like his mother, too, right?